In this chapter, you will learn the basics about extracting an element from a photo.
Extracting in photo editing means selecting an item or a feature from a photo and pacing it on its own layer or by removing the background.
The first step of extracting is to select the element by using selection tools. Then the edge of the selection will be modified if needed. After that, the selected item will be copied and placed into a new file or a layer.
Extracting is an essential tool in photo editing and photo collages.
What does extracting mean?
Extraction in image editing means the process of selecting and removing an element from an image and placing it on its own layer, either in a new file or in the same image. Extraction can be used to modify and combine different elements in one picture so that the final product will look very realistic.
Extraction can be done in many ways with different selection tools and their combinations.
For example, in Photoshop, there are several selection tools, some of which make the selection partly automatically and others are more manual and therefore more controllable. Technically, the selection is based on the contrasts between the pixels. Therefore, it is always easier to select a single element from an even background, especially if the color and light contrast between the element and the background is high enough.
More complex selections require a little more editing to make the selection correctly.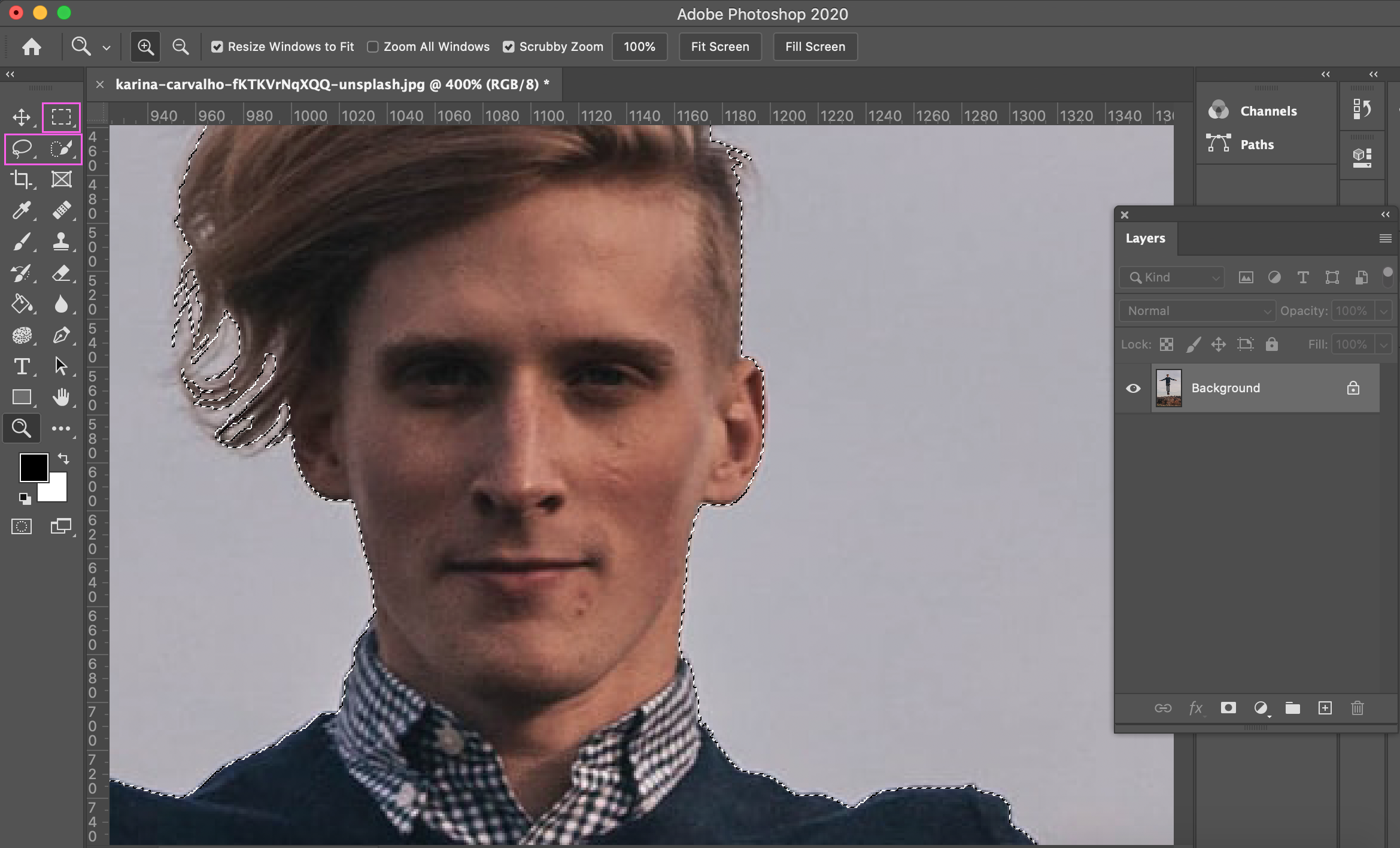 Editing the edge of the selection
After making a selection, the selected element is rarely perfect. The edge of the selection is often jagged and, for example, soft surfaces such as hair always require additional work. For this reason, the edge of the selected area must be edited further.
When the item is selected and one of the selection tools (lasso tool, quick selection or such) is active in the tool panel, you can see a select and mask button in the upper panel. When you press that, you get a new window whit multiple tools for adjusting the edge more.

The edge of the selection can be, for example, soften and faded (feather), contrast can be added to it, and the blending ratio between the selection and its background can be modified. Hairy surfaces can be edited separately in more detail with a brush that is made for this purpose.
Pay attention to how increasing the feather will change the edge of the selection.
Stock Photos and photo collages
In photo collages, that are, for example, made for illustrating architecture or interior design, extracted elements and features are usually always included.
Stock photos that make photo collages faster to create are a great addition to your workflow since they are often already extracted and ready to use. You can find extracted photos with a transparent background for example from Mr Cutout. Another great website for planting and trees is Meye.
Original photo: Timothy Rhyne on Unsplash. Person in the picture: MR.Cutout